A few words
about Ed's Automotive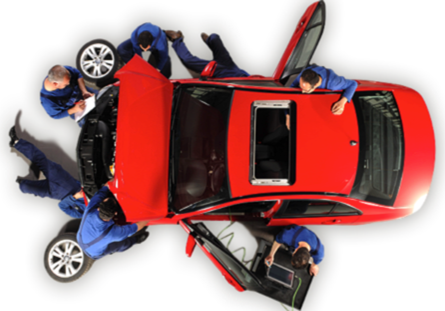 OUR mission
We understand that your vehicle is more than just transportation. A vehicle is an investment that you rely on daily to keep you and your family safe while going to work, taking the kids to school, going on vacation and many other activities you are responsible for. Our mission is to help you maintain your vehicle so that your family has a safe and dependable daily commute. To accomplish this, we provide excellent customer service, honest estimates and repairs, and we work hard to repair your vehicle in a timely and cost-efficient manner.
Maintaining Your business
For the last 51 years we've been striving to provide our customers the best quality service possible to gain their full satisfaction. You can rely on the competence of our technicians and staff who are trustworthy, caring, hardworking, and continually go above and beyond to ensure our customers have a great experience. We want to be the shop that handles all of your mechanical and auto body repairs. We are grateful for our customers who show their appreciation by coming back to us repeatedly and their willingness to refer their friends.
How we stand out from the Rest
The History of
Ed's Automotive, Inc.
Ed's Automotive, Inc. was founded by Ed Sanderson in 1972. In the fall of 1971, Ed left his position as Body Shop Manager at Vaughan Chevrolet and Cadillac (now Pinkerton Chevrolet) to start his own business. He began the construction of our building and opened the doors for business in March of 1972, starting a complete automotive service center and body shop to serve the Lynchburg area. Ed specialized in engine overhauls and all over paint jobs. As time went by, the business became a more complete service center.
Edward, Ed's oldest son, came to work in the automotive service shop in 1981. Over the course of the next few years, Edward managed the mechanical shop while Ed focused on the body shop. Tim, Ed's youngest son, joined the family business in 1986 to work in the body shop. At that time, Ed became more of the general manager of the business.
During the 1990's automotive technology advanced with the use of computer controls on many systems. Ed was happy to step back from the day to day workings of the business. He made sure that Edward and Tim received the training needed to tackle and repair these high tech automobiles. Ed stayed involved as a manager and mentor for his sons until the day would come to turn the business over to them.
On January 1, 2007, Ed officially retired and turned the business over to his sons. Edward and Tim continued to use the same family business values that Ed instilled in them since the day they started working at the shop. Over the years, both Tim and Edward used their skillsets to serve the Lynchburg community in numerous ways. They taught and mentored Michelle over the years and she quickly became a part of the Sanderson family. After Tim's passing in 2018, Edward continued to own and operate the shop alongside a couple of skilled auto-body technicians, as well as Michelle working in the office.
In 2020, the conversation began about continuing the business and legacy that the Sanderson family began. In July of 2022, the business came under the new ownership of Michelle and her husband, Jamie.
Since 1972, the Sanderson family has been providing excellent service and offering outstanding value to residents of Lynchburg and its surrounding counties. We seek to continue that legacy for years to come!