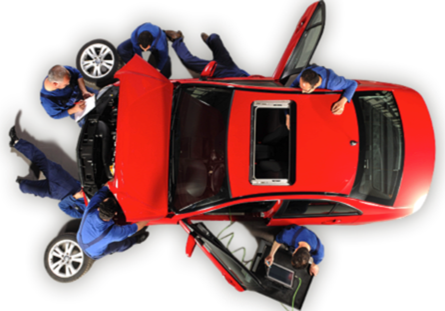 For most people, auto maintenance and repair is not fun or convenient. So, we want make the process as easy and enjoyable as possible for you. We genuinely care about your car and your experience, and it shows. Our first-time customers continually become our long term customers time and time again, choosing us for all their auto needs.
We're committed to auto repair and to serving you with quality and value. Bring your car in today for an inspection, and see what our commitment to quality is all about! We may not be related, but you'll feel like we're family.
Maintaining your business
For the 43 Years we've been in business, we have been striving to provide our clients the best quality service possible to gain their full satisfaction. And they've shown their appreciation by coming back to us repeatedly.
We want to be the auto maintenance and repair facility for all your automotive needs.
How we stand out from the Rest
Ed's Automotive, Inc. was founded by Ed Sanderson in 1972. In the fall of 1971, Ed left his position as Body Shop Manager at Vaughan Chevrolet and Cadillac (now Pinkerton Chevrolet) to start his own business. He began the construction of our building and opened the doors for business in March of 1972; starting a complete automotive service center and body shop to serve the Lynchburg area. Ed specialized in engine overhauls and all over paint jobs. As time went by, the business became a more complete service center.
In 1981, his oldest son, Edward, came to work in the automotive service shop. Over the course of the next few years, Edward managed the mechanical shop and Ed focused on the body shop. Ed's youngest son, Tim, joined the family business in 1986 to work in the body shop. At that time, Ed became more of the general manager of the business.
As technology improved and cars became more computer controlled in the 90's, Ed slowly stepped away from the business turning it over to his sons, Edward and Tim. Ed still stayed involved as a manager and a mentor for his sons until the day he would fully turn the business over to them.
On January 1, 2007, Ed officially retired and turned the business over to his sons. Edward and Tim still continue to use the same family business values that Ed instilled in them since the day they started working at the shop.
Since 1972, the Sanderson family has been providing excellent service and offering outstanding value to neighbors throughout Lynchburg.
Questions? Call Tim or Edward at (434) 384-8986
We are independently owned and operated!